Ok I confess, I read JHU Confessions. Judge me however you like but remember, we all have guilty pleasures.
There are literally several hundred pages of posts from JHU students. Other schools maybe have twenty or thirty pages max. Why is JHU Confessions so popular among the undergraduate population?
People on JHU Confessions can be very cruel. Hiding behind a sheet of anonymity, students are free to post anything. Some authors reveal sensitive and embarrassing information about others. Disregarding their privacy, they drop first and last names, as well as links to Facebook profiles. Embarrassed by its content, school administrators tried to shut the site down. I believe someone attempted to file a lawsuit against the original creators.
At the same time, some posts are intimate and thoughtful. That same curtain of anonymity allows some to be their true selves. It affords some a unique opportunity to express serious concerns and questions. JHU Confessions can be a tool used to discuss certain taboo topics that some might feel uncomfortable doing so publicly.

Aside from the annoying sorority and fraternity bashing, posts expressing sexual frustration and desire are also common. Racist post usually target Blacks, Muslims, and Koreans. Cyber bullying is unfortunately not unique solely to grade school children. Many posts call out individual people because of their sexual orientation, physical appearances, or eccentric personalities.
Here are some snippets of the best, the worst, and the downright trashy posts from JHU Confessions. I also uploaded some screen shots of my private JHU Confessions messages with another student. Enjoy.
Because I love my readers so much, I have decided to upload pictures of some of my private messages with another student.
"You" is referring to myself, Hurikane eL Swiss The Money $lave Diaz.
"Anonymous" is referring to the student I was exchanging messages with.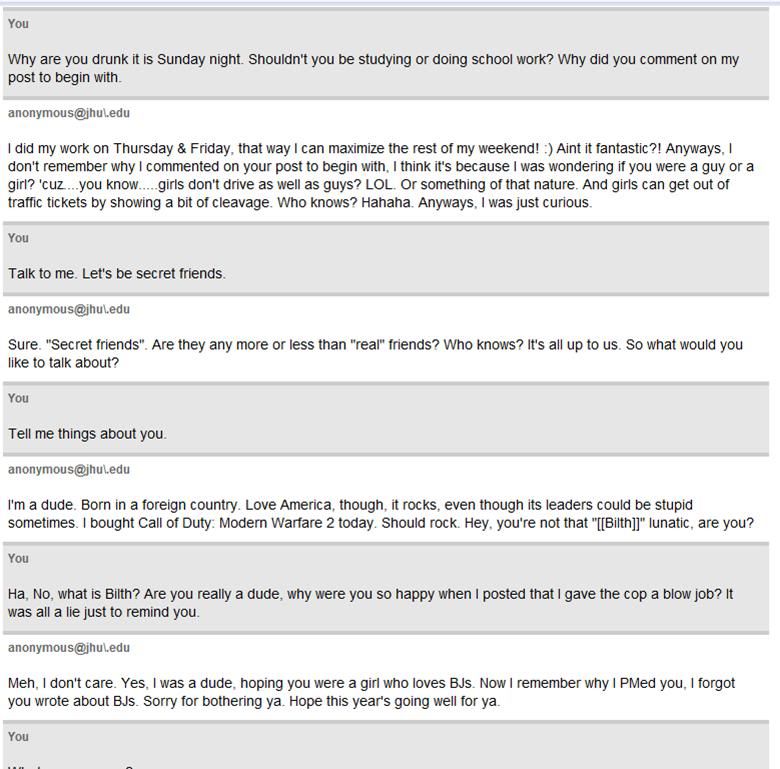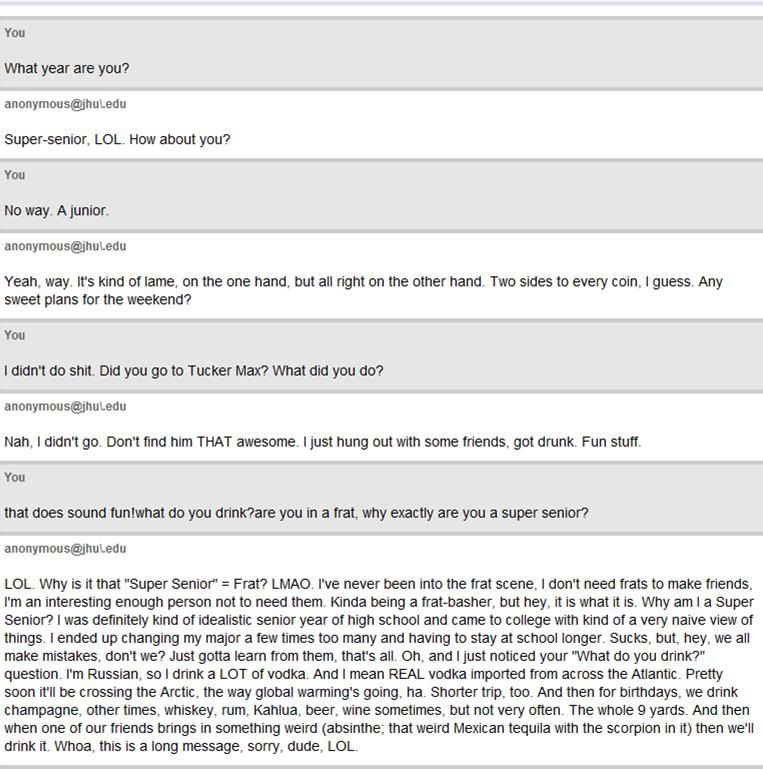 Do you read JHU Confessions? Are you embarrassed to publicly to admit it? Do you think it is a good representation of Hopkins? Do you think it is complete garbage? Have you ever posted on JHU Confessions? Do you have any favorite posts?
Until next time,
-Hurikane eL